As a reminder, Publix will close today (Christmas Eve) at 7 pm. So grab all of your last minute holiday needs while you can!
All Publix locations will be closed on Christmas day and will re-open at 7 am on Wednesday. I posted the upcoming Publix ad that starts on 12/26 a bit earlier, just scroll down to check it out. Lots of great deals and hopefully you have plenty of time to prep!
I hope you all have a very Merry Christmas!
As many of you have noticed (based on my inbox overload) Coupons.com has changed their format once again.
Based on the reaction from you guys, it appears that I am not alone in not quite loving their new format! Now, I am not a person who is typically bothered by change. Usually change is a good thing…it's done as a way to improve – right?
Now, don't get me wrong – I love Coupons.com. I think they have the best printable coupons – both in value and brand available. Plus, they always have way more than any of the other printable sites. But, I am not sure I can find many "improvements" with the new design. I do have several issues and all are based on function and ease of use.
As you can imagine I visit Coupons.com quite often…probably more than the average person. I look for coupons and deals to share with you guys frequently throughout the day. So, I consider myself a super user–tee hee! There are several reasons why I am finding the new format not as simple as they are touting it to be.
First, it takes FOREVER to see all of the coupons!
At first I was so excited because there is a "SHOW ALL" option in the category navigation. Ok, you have to click the "More" tab to get to it…but, I would have been A-OK with a two step process to actually see all the coupons. BUT–when you click it…you only see the first page of coupons. Not what I imagined with a "SHOW ALL" option!
In order to view the coupons, you have to page down or scroll several times until you finally get to the bottom of the first page. Once there, you have to click the bar to "see more coupons". To see the 361 coupons available to me, I have to open up almost 20 pages! That is EXTREMELY time consuming – especially if I am just looking for the details on a particular coupon or to see if anything is new! You can try clicking your space bar a couple of times but again, it should not be that difficult!
As a comparison, the "old version" of Coupons.com allowed me to merely click the page number or arrow at the top of the page to advance to the next page of coupons. I use a laptop, having to scroll and click takes at least three times longer than just a single click of the mouse! Not exactly "simple" if you ask me!
For some odd reason, they think that you can now view more coupons. Check out my screen shots below. With the new format I can only see two more coupons than if I used the "old version". AND…once you get past the first page you can only see 8 coupons because of the ad that appears on the right side!!
What I think you should actually focus on is the fact that the new version requires me scroll several times to get to the bottom of the page to access the "show more coupons" button. To see more in the old version, all I have to do is click that little arrow at the top of the page. So–I can see ALL the coupons on the first page and then with a simple click…I can move to the next page lickity split! Now, you tell me which one is simpler??
One of the biggest thing that annoys me with the new design is that you have to make sure your mouse is between the coupons. If you try to scroll and you mouse over the coupons you get a big distracting circle with the wording "CLIP COUPON" and you can't even read what the coupon actually says! Hello, if I am trying to browse coupons…I need to be able to read them!
The biggest thing that folks are unhappy about is the fact that you can no longer change zip codes to see "regional" coupons. In the "old version" you can still modify the zip and even the previous version you could use the "Local" tab to change the zip code. With the new version, if you change the zip code you ONLY change the zip for the local offers. It does not modify the zip for the coupons. To change the zip you have to go through the hassle of modifying your account. My buddy Bill over at Coupons In The News has more details on this change.
Ok, so if they don't want me to have access to regional coupons I suppose I can live with that. What I don't care for is the massive amount of time it takes me to see the coupons. I do hope they look at ways to cut down on the time it takes to see the full list of coupons- fingers crossed
So, let's hear it– what are your thoughts on the new format on Coupons.com?
While it lasts, you guys can still use my "OLD VERSION" by hovering over the Printable Coupons tab at the top of the site and selecting Coupons.com. I have all the printable sites under that tab…easy breezy!
You know it's the little things…
I am doing a little happy dance because I finally found my Publix Season's Greeters Salt & Pepper Shakers! For some reason the Santa & Mrs Claus set got left out when I was packing up my holiday decorations last year and I stuck them in a random box. Of course, when I did it…I told myself I would remember. Well, apparently I am getting a bit old because it took me forever to figure out where I had stashed them!
I have pretty much every piece that Publix put out. I have all the Pilgrim pieces including the Pilgrim Pair, Lilgrim Pair, bowl, platter, gravy boat, napkin holder…you name it – I have it. I also have the cute Snowfolks but it just isn't Christmas without my Santa Shakers!!
As you all know, I Heart Publix and I have loved them for quite a long time. I looked at the bottom of the shakers and noticed that this set is from 2000. I really wish they would bring the collectible items back…they are just awesome. It makes me happy to pull them out every holiday!
Did any of you guys get any of the pieces when they were selling them?
Publix cakes are the best thing on earth. I have been known to stop by the bakery and get one single cream cheese frosted cupcake and then hide it until the kids are in bed. Oh – so good! Now imagine that goodness times 50 and that is what you get with Publix Wedding Cakes!
I have a dear friend who is getting married very soon and she asked me what I thought about her getting a Publix wedding cake as well as a groom's cake. You know what I said…"Do it!!"
When I got married I spent way too much money on a cake that was just OK. Of course it looked pretty but honestly – it did not taste very good. My wedding was long before I found out how much "I Heart Publix" so I didn't even know that Publix was an option.
Now, anytime I need a cake – Publix is my first choice. They have so many options to make sure you get exactly the cake you want. You can choose from so many styles – whether you want a classic cake or something more modern. You get to choose every aspect of the cake from the frosting to the filling…all the way to the smallest design on the outside.
Besides being beautiful and tasting delicious – you just can't beat the price. I can still remember exactly how much I paid for my wedding cake because I just about fell over when the bakery told me the price. In looking at the information that my friend brought as we looked at wedding cake options from Publix – the size cake I had would have cost me almost half if I had got it at Publix. That's money I could have used on my honeymoon in Hawaii
My buddy Jessica decided to go with Publix and I can't wait to see how her cake turns out. I know it will be beautiful and I can't wait for her wedding just so I can have a slice of that cake. I might also have to sample the chocolate strawberry cake that they are getting for the groom's cake. It's coming from Publix too!
Based on comments and emails from you guys, I know that lots of you were smart cookies and chose Publix Wedding Cakes too. Send me your pictures and I will share them. You can also share your wedding cake story in the comments.
We hope you all have a great Halloween! We are off to trick-or-treat!
brigit2e from the I Heart Publix forum shared a great find – connect for FREE to the Publix WiFi Network.
This is great news. Now, when you are shopping at Publix and need to check what coupons you need for a deal…you can pull up I Heart Publix for FREE – tee hee!
Of course you can use it to pull up Publix.com too in case you need to find products, ingredients, prices and more.
I have received a handful of emails in the past couple of weeks about meal planning and budgeting. I know I have said it before – but, meal planning really is the best way to cut your spending. I thought I would touch on a few tricks to help you on those weeks when your grocery fund might be a bit tight.
Remember, just by shopping the sales you will easily save 30 – 50%. If you will create a menu based on what you have on hand and add in the sale items you can reduce your spending even further!
Another tip that you can do to help you save time and money is to find ways to stretch your meat.  Meat can be the most expensive cost in a meal so why not look for recipes that will give your family the protein they want/need without requiring large portions!
Right now, you can pick up a whole chicken at Publix for $1.29/lb. That is not the lowest price we will see but I want you to see how you can use this low cost meat to your advantage.
Why not grab 2 whole chickens and turn them into 4 meals. With an estimate of around 4.65 pounds per bird, you will spend $12 for both birds. That is only $3 per meal for a family of four (or 75¢ per person)!
With those chickens and some pantry staples, you can cook them up and have 4 meals ready to serve when you need them. I decided to throw together some meals last night and I thought that you guys might find it useful too.
With my two chickens I whipped up the following in about an hour and a half. I did not use the exact recipes below –  but, I wanted to give you guys some options to see what you can do with just a few ingredients. Use your favorite recipe or search for versions with items you have on hand.
I used a combination of fresh and frozen veggies and used the stock that was made when I boiled the chicken. All the other ingredients were things that most of us have on hand in our pantry and fridge!
Had I just roasted the chicken, we would have probably eaten one entire bird in one meal. Because I am pairing the meat with other items, I can use less and still have a meal that will satisfy all of my guys! What is even better is that on nights when I don't have time to cook, I can grab one of these meals from my freezer. All I have to to is toss it in the oven to bake or heat it on the stove.
Tip – You can freeze these meals in throw away tins or in your baking dishes. If you use your baking dish, just spray the glass dish with some baking spray and then line with parchment paper or plastic wrap. Stick it in your freezer overnight.  Once the meal is frozen, you can just lift the wrap and easily remove the big frozen meal. Throw it in a ziploc or use your Foodsaver to store in the freezer. That way you'll still have your dish available for every day use. When it is time to cook the meal, you just place it back in the dish where it will fit perfectly. Then, defrost your meal and cook.
I'd love to hear what your favorite recipes are for freezer cooking or when you cook once and eat twice. Feel free to share them in the comments. I bet lots of folks can use the tips!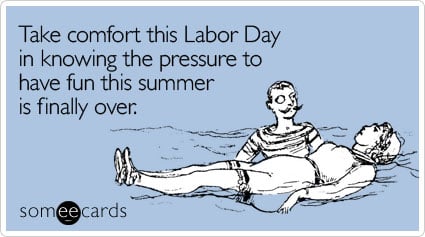 Happy Labor Day Everyone!
I think I need to find a hammock somewhere breezy! Cleaning out a super messy 6 year old boy's closet is just not as relaxing or as fun as you might think – tee hee! I know you are all jealous
A while back there was an Ask I Heart Publix question about how to best take advantage of your Smartphone when you're couponing. You guys had so many great suggestions that I thought I would do a whole post dedicated to the different Smartphone apps you can get that can be helpful while shopping. Make sure you leave a comment if you know of any others!
To get started, you may want to check out the free Publix App – with this app, you get access to store information and weekly ads, and even to their "My Shopping List" that you can create on Publix.com.
Another suggestion that many of you had was the Key Ring Reward Cards Mobile App
. This is a free app that allows you to load all of your shopping rewards cards into your phone. Your cashier can simply scan your phone at checkout and you no longer need to carry around all your keycards…including your Publix Upromise card!
Here are some of the suggestions you guys had for other apps to check out:
Roxy says:
Just wanted to share with everybody what I use my smartphone for. I use KeyRing, and I also have Shopkick where you get points for checking into stores and scanning products (Target for example). I do a lot of research in the store. For example if I end up at Publix and it's not a planned trip, I have all my websites bookmarked and I can check the weekly deals quickly.

Besides all this, I pretty much use my phone as a multi-tasking tool…I take pictures of products so I can later look for coupons online, I take pictures of prices so I can later make a shopping list. I also use the calculator app to add up my items when I'm at drug stores (you all know how precise those shopping trips have to be). And I also write my shopping trips and deals in the Notes app. I have a checklist for each store, and every week I write the free / almost free / great deals of the week. As I walk in the stores, take out my phone, look at the checklist and uncheck the stuff I get. I find it so easy to use. Much easier than a handwritten list.

Oh and I also look for coupons in the coupon database when I'm in stores. If I find a great deal, but dont have any coupons, I check the database, then go home and print the coupon.
Karla says:
Having a smart phone is great for shopping! I use the KeyRing app as well and I love my shopping list app – ShopShop. It's free and you can have multiple shopping lists for different stores. I use it for my weekly grocery shopping as well as for keeping running lists for other stores so I won't forget all the little things I thought of in between trips.

It's also good to have a price comparison app like RedLaser or ShopSavvy and I have my RSS reader app on there so I can quickly get back to the iheartpublix ad match-up or other posts if I have a question in-store. I also have an app called Gifts Free that helps you manage your Christmas shopping. You can set up a list of all of the people you need to buy for, set budgets, and check off items as they're purchased.

You do not have to spend money in order to have good, useful apps. I have never paid money for any of the ones I have and I use them daily.
Ketsy says:
I use RedLaser to scan items at the store and find if its cheaper in stores nearby. (There are other price comparison apps that work pretty good.) This usually works for regular price items that you weren't counting on buying. The app turns out with your nearby prices Walmart, Target, and even online stores. Pretty neat.
tammi says:
I love having a smartphone for couponing! I use the Kroger app since it will show me all the coupons I have loaded on my card while I'm shopping. I also use the Snapappy app for Old Navy and I get the 'Snap 5? all the time for free stuff! I use the CVS app since you can load your CVS card on there and they can just scan your phone in case you forgot/lost your card. I have all of my favorite sites bookmarked on my home screen so I can easily check by store if anything unadvertised popped up while I'm shopping at that store. I also take a lot of pictures to either remember what the shelf tag said or to send to my friends!
Jimmy Dean is starting a Breakfast Club consumer panel to get feedback on their products and the way consumers use them. If you are interested in being a part of the panel, you can head over and sign up over here. If you are accepted as a member of the panel, you will be entered into a sweepstakes drawing to win a cash prize of $500!
I have been a member of panels like this in the past, and you can sometimes get decent freebies and coupons for participating. There is no guarantee that you'll get those type of rewards for this panel, but it can't hurt to sign up…especially if you like Jimmy Dean items
.
Be aware that there is a longish survey that you will take to sign up (it took me about 5 minutes or so). Good luck everyone!